Succession Planning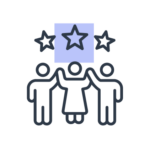 Effective succession planning helps your organization build a strong leadership pipeline, ensure continuity and retain top talent. We help you to identify succession candidates, determine their readiness and create a comprehensive plan to prepare them to assume executive responsibility.
How it Works
Our process helps leaders to:
Identify the Performance Profile of Key Positions
Organizations first need to identify the critical knowledge, experience, capabilities and personality factors required for success in key positions.
Assess Potential Candidates
Once key positions are identified and performance profiles established, succession candidates are evaluated for their readiness and suitability to assume those positions in the future.
Our assessment typically involves a review of career and performance history, an intensive interview, a 360° assessment and a complete battery of objective tests to evaluate personality and critical thinking.
Recommend a Tailored Development Plan
We provide candidates with a detailed description of their development needs to prepare for promotion. We recommend assignments and specific development actions to enhance skills, knowledge, and competencies required for the target roles. The plan may include mentoring, coaching, job rotations, specialized training and educational opportunities.
Implement Transition Plans
When an executive position becomes vacant, we enable organizations to smoothly transition the identified successor into the new role, minimizing disruptions and ensuring continuity via our Executive Transition Lab.

If you are seeking an opportunity to develop or continue to develop as a leader from both an awareness standpoint as well as a tactical strategies and tools for how you can go about making change, this meets a nice middle ground. If you're looking to grow as a leader from relationships formed outside of your organization in a structured way, this delivers that and is incredibly valuable.
– Stephanie Morgan, Design Institute for Health

Whether it's an individual who has a dilemma, a team that needs to up its game, or an organization facing challenges, Centauric experts are here to help you succeed with personalized services and practical solutions.
– Anthony Perrone, Northwestern Mutual Insurance Company

I'm consistently studying leadership, and there were definitely tools and perspectives in here that I haven't come across before. This is without a doubt, very much worth the time and investment. The material is super beneficial for anyone ranging from a new manager up to an executive level.
– Caitlin Stone, Activist Artists Management

We would have moved directly into action but it was great to have Centauric with us to help us make the path, find what projects were most important and helped us challenge our assumptions.
– Vicki Poponi, VP Honda Consumer Journey Experience

I really liked the simplicity of the framework. Streamlined but powerful. The facilitators were very likable, articulate and created a sense of camaraderie even in a virtual group. The framework that they present is different from other leadership programs in that it's simple, easy to implement and it's effective. As a leader, that's what you're looking for, and I think the program accomplished that.
– Greg Barrett, CIRE Equity
Organizations benefiting from Centauric