Mergers & Acquisitions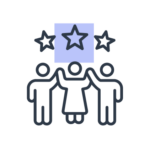 Successful mergers require careful planning, effective execution, and a focus on long-term strategic goals. Addressing potential challenges early on and having a well-thought-out integration plan will mitigate risk and increase the chances of a merger generating value.
When a deal is being contemplated, we provide valuable insights into the characteristics and motivations of key players as part of the "people due diligence" process.
After the deal is signed, we actively support the integration through intentional culture management, change leadership, and alignment.
How it Works
Every acquisition requires a unique combination of the following:
People Due Diligence
We conduct an in-depth assessment of key players to understand and describe their capabilities, style and values so you can determine their highest and best use in the new organization.

Change Orchestration
Centauric provides you with a structured and systematic approach to navigating change that ensures a smooth transition, minimizes disruption and maximizes the chances of successful outcomes.
Our approach to Change Leadership involves clarifying the Winning Aspiration and Change Imperative, anticipating the impact of the integration, planning for implementation and leading the transition to maximize value.

Leader and Team Alignment
We conduct structured alignment labs where areas of agreement are acknowledged, differences explored, issues identified and solutions are built. Leader alignment focuses on your winning aspirations, preferred rules of the road, role definitions, strategic priorities, and tactical commitments.
Intentional Culture Management
We enable you to understand what aspects of the legacy cultures are aligned, complementary or likely to undermine effective integration. With this clarity, we help you to design your preferred culture and execute a customized plan for sustainable Culture Management.
Evaluate your Impact
The process concludes with an evaluation of progress toward the achievement of your desired culture.

If you are seeking an opportunity to develop or continue to develop as a leader from both an awareness standpoint as well as a tactical strategies and tools for how you can go about making change, this meets a nice middle ground. If you're looking to grow as a leader from relationships formed outside of your organization in a structured way, this delivers that and is incredibly valuable.
– Stephanie Morgan, Design Institute for Health

Whether it's an individual who has a dilemma, a team that needs to up its game, or an organization facing challenges, Centauric experts are here to help you succeed with personalized services and practical solutions.
– Anthony Perrone, Northwestern Mutual Insurance Company

I'm consistently studying leadership, and there were definitely tools and perspectives in here that I haven't come across before. This is without a doubt, very much worth the time and investment. The material is super beneficial for anyone ranging from a new manager up to an executive level.
– Caitlin Stone, Activist Artists Management

We would have moved directly into action but it was great to have Centauric with us to help us make the path, find what projects were most important and helped us challenge our assumptions.
– Vicki Poponi, VP Honda Consumer Journey Experience

I really liked the simplicity of the framework. Streamlined but powerful. The facilitators were very likable, articulate and created a sense of camaraderie even in a virtual group. The framework that they present is different from other leadership programs in that it's simple, easy to implement and it's effective. As a leader, that's what you're looking for, and I think the program accomplished that.
– Greg Barrett, CIRE Equity
Organizations benefiting from Centauric